The weekend is so close I can practically taste it! Which means it's time to link up with
Ashley
for...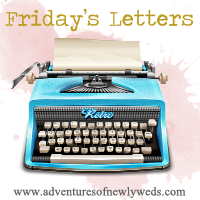 Dear DMV:
Last week I visited you to renew my license, only to be shooed out of the building as the "system went down." This week I tried again. For an hour and a half I patiently waited for my number to be called. When I reached the counter you informed me that "Sorry ma'am, it's 4:35 and we don't give the test out after 4:30. You'll have to come back." Are you kidding me?? What really confuses me about all this, DMV, is that you somehow have 15 "likes" on facebook. That just seems excessive. Even in a state of 33 million people.
Dear Hubby:
Sometimes your job can be kinda dangerous and you had me on pins and needles this past weekend. I was so relieved that everything worked out okay, cause if you'll remember, you promised to live to at least 90 and I'm holding you to it!
Dear Self
: I am not your biggest fan right now. You have totally fallen off the workout-wagon this week...what gives?? Every day you set your alarm early enough for a run before work, and every day you hit the snooze button like, 6 times. And that Smartie bender you went on? Probably not the best idea. You know they're like crack. Amazing, delicious crack. I'm not even
talking
to you about the Chinese dumplings. Next week must. Do. Better.
Dear Texas Fingers (you know who you are!)
: Don't let the man get you down. You're better than all of them and I've got your back!!
Happy Friday! Have you written your letters yet?