Once again it's the
best
day of the week, and that means it's time to link up with
Ashley
for...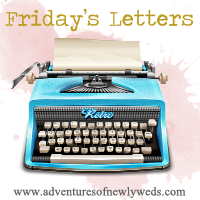 (And check out my
Giveaway
below cause I'm all kinds of excited about it!)
Dear Blogger
: Thank you so much for reverting my entire post to the original draft and deleting all my revisions and html code. That was so....nice of you. And thank you for letting me notice only after I hit "publish." Grrr. Has that ever happened to any of you??
Dear Dishwasher
: After years of living in various apartments and doing my own dishes (I know, I know...the
horror
!) I was so excited when we bought our house and *you* were a part of it. Maybe I have started to take you for granted lately. Maybe I
did
buy you that cheap Walmart dish soap that one time. I admit it-I was wrong! Please, please don't quit on me now!
Dear Microwave
: Don't. Even. Think about it.
Dear Forever 21 Cashier
: I appreciate your concern, but yes, I understand that jewelry is "final sale." I'm a gamblin woman, and that $1.50 was burning a hole in my pocket anyway!
Dear Hubby
: Hooray! We're finally leaving for our honeymoon! I. Am. So. Excited!! Maui here we come!
Dear Travel Gods
: You know I kinda hate flying, so pretty please no turbulence today!!
Dear Readers
: This week I hit 50 followers on GFC! I know that's super small-time in the world of big-time bloggers, but hey, I am
THRILLED
super chill about it like, whatevs. Haha, yeah right! I say, let's celebrate with a
giveaway

!
Woot! I want to share with one of you lucky ladies (or gentlemen!) my very favorite summer-time skin care goodies:
Murad's

Sun Undone Radiance Renewal
kit. You guys, I've been using these products every day and I
love
them! If you happen to be a sun-junkie like moi, or just want a brighter and generally lovlier complexion, then get your buns down to my Rafflecopter! The 4 pc skin care kit contains Murad's Essential-C Cleanser, Active Radiance Serum, Essential-C Day Moisture with SPF 30 and Age Spot and Pigment Lightening Gel. You will love it, it is A-Mazing! Get 'er done!
Aloha and Happy Friday!
a Rafflecopter giveaway