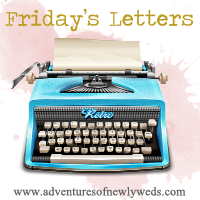 Dear Nikes
: See?? I
told
you you wouldn't be lost in my closet abyss forever! You gave me 12 good miles this week and we're practically BFFs again.
Dear Emily aka. The Bachorette
:
Thank you
for getting rid of that douchebag Ryan. Now could you please stop giving roses to Chris? He creeps me out. And let's be honest, my grandmother could throw a tree further than that guy.
Dear Maui
: I can't wait to meet you! I'm in love with you already...we're talking internet-stalking-obsessed here. I am so ready to lay on your white sandy beaches and soak up your glorious sunshine (and your tasty adult beverages!) ...3 more weeks! Woot!
Dear people who think its ok to drive below the speed limit in the fast lane when I'm running late for work
:
Stop it
...!! I am at my breaking point and can no longer hold myself responsible for the dirty looks you may see in your rearview.
Dear Hubby:
You're pretty good at this whole being married thing: stopping by the auto body shop to take care of my car, dealing with our health insurance, putting the trash cans away after garbage day...you're the best! If only we could get you to stop hoarding coffee mugs...
Happy Friday! Make sure to check out the other awesome links at
Adventures of Newlyweds
!