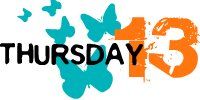 I never quite feel like I have enough spare time! Do you? When I do, here's how I spend it...
Yard work
. Weird? Maybe. But I can lose hours planting flowers and pulling weeds. I can trace this back to childhood when I used to beg my brother-unsuccessfully- to trade chores with me. Mowing the lawn vs. housework? No brainer!
Exercise
. We have a love/hate relationship. Or sometimes a hate/hate relationship. But either way, the endorphins always make up for the pain.
Travel.
I don't do enough of it, and I love,
love
seeing new places and having new experiences. And I even love the planning and packing parts! There are some super fun trips to look forward to this year: a girls cruise to Mexico, our Vegas wedding and then, hopefully Costa Rica.
Shopping
. Oooh, got all giddy there for a sec, just thinking about it. If my style sense ever catches up to my shopping ability I will be such a threat!
If you are ever in Santa Cruz, you have to check out Bunny's Shoes!
Zentangle.
Duh! Thanks to Erin @
The Bright Owl
for showing me the ropes!
Hiking.
Bar-none, one of my favorite-est things to do in my spare time. We have tons of gorgeous trails around here.
Exploring St Helena with my hiking buddy, Raf :)
Borders
...One of my happy places! I used to spend time there every week browsing the bookshelves, searching for new authors and just enjoying being surrounded by all those books! Sadly, our Borders recently closed and I just don't feel the same way about the other bookstores in town.
I looove
going out for dinner or drinks
. There's a new upscale BBQ joint (is that an oxymoron??) in town called Sweet T's that serves great martinis
and
to-die-for fried chicken.
Those beer glasses were NOT all ours!
The beach
...about a 45 minute drive away we have some beautiful beaches. I love going out there when I have something on my mind. The vastness of the ocean always reminds me that there is so much out there bigger than me and whatever I'm dealing with.

Beautiful Jenner
Hooray for
Bubble baths!!!
When spring rolls around, I love hitting up the
Farmer's Market
on weekends for super-fresh, sweet strawberries and other locally grown goodies.
Pedicures
! Really, what is more relaxing than a spa-pedi in a massage chair??
Curled up in a comfy corner of the couch
with my fur-children (aren't they cute?) and my Kindle or laptop--stalking all your lovely blogs, of course! (Knew that was coming didncha?)
Eddy Valentine aka Spaghetti-O
Ella Mae aka The Skrat
How do you spend your fun-time?? Check out the fab links @
Aunie Sauce
for other great spare-time activities!