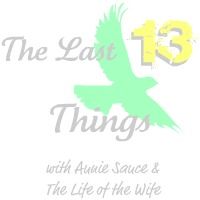 I decided to try something new this week and link up with Annelise of the fabulous
Aunie Sauce
for her
Thursday 13.
How fun!
Presenting: The Last 13 Things I....
1. Ate: Half a leftover Ribeye when I got home from work at 1am. Kind of a weird midnight snack but yummmmm.
2. Drank: Water. Hardcore. No excuses. I am
trying to quit
cutting back on my Coke Zero addiction.
3. Watched on TV: Golf (blech)
4. Actually
wanted
to watch on TV: The Bachelor. I'm a little ashamed to admit how much I adore bad reality TV.
My TV nemesis!
5. Read: A news article about a 9 y/o girl who died of dehydration after her parents forced her to go on a 3 hour run for "lying." Talk about a buzz-kill way to start the morning!
6. Bought online: Fun new flats for summer. Yay!
7. Did for exercise: The Brazilian Butt-Lift Workout. Yes, I bought it from an infomercial. Yes, it works. :-)
8. Costume I wore: The Black Widow...with, of course, my Dead Groom
9. Was thankful for: That Travis left the porchlight on for me this morning. Sooo much easier to get the key in the lock when you can see what you're doing. Sometimes, it really
is
the little things!
10. Wished for: Drooling over the Canon Rebel. A
serious
upgrade from my point-and-shoot.
11. Listened to: Katy Perry "Part of Me"...such an angry/catchy break-up song! And "A Thousand Years" by Christina Perri. Total opposite.
12. Cried about: I honestly have no idea! Probably a sappy movie scene or sad song. I can't help myself!
13 Made me laugh: A darling, elderly, super-sassy nun with a great sense of humor. I meet some awesome people at work!
The End (or as Travis likes to say, Fin!)
Happy Almost-Friday! Be sure to check out
Aunie Sauce
for other fab links!